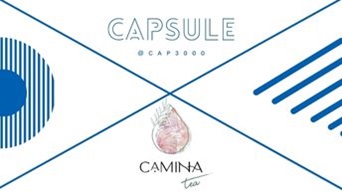 CaminaTea
Время работы

Понедельник - Суббота: 10:00 - 20:30

Воскресенье: 11:00 - 19:00
CaminaTea
CaminaTea, the tea and infusion house of Cap-Martin on the French Riviera

Discover gourmet recipes of teas and infusions inspired by the heritage of the French Riviera and the exoticism of the most distant destinations.

CaminaTea is all the elegance of the French Riviera in a cup of tea


CaminaTea also thinks about the environment with an eco-responsible packaging 🍃 : The " Mini'Tea " to test : mini box in reusable allu and to take everywhere with you . The "Gourmande" 100g for fans: airtight jar, recyclable and biodegradable! A real plus for nature


CaminaTea is a young tea house of the French Riviera created and installed in Roquebrune-Cap-Martin in the South of France which proposes you original and greedy recipes! CaminaTea is the story of two lovers, children of Cap-Martin, emblematic place of the beautiful time on the French Riviera which saw passing the leaders of Tout-Londres and the most fashionable hostesses. CaminaTea is the reflection of this timeless elegance which today inspires Céline and Christophe to offer you flavors that invite you to travel, from the Mentonnais basin to the most exotic destinations. "Camina"...